Post by petertherock on May 17, 2020 11:06:24 GMT -5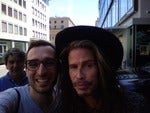 Still we need time and I think trump did a good job balancing economical needs while implementing measures to protect public health. I honestly haven't followed his actions very accurately but from what's generally reported I wouldn't complain too much. Of course every country is acting differently, Italy is not a fixed sample to follow for anyone but Spain, France and UK who's been similarly hit have implemented similar measures and the numbers are getting so much better.
Today in Italy we had less than 2000 (around 1800) new cases and with many recovered people and always less patients needing hospitalisation or intensive care, we're now able to enter phase 2 starting from may 4th. Of course there are still limitations and precautions until may 18th and I'm sure this step-by-step approach will continue for many months. The goal is to have a general healthy situation with limited cases that will allow us to act fast and locate local outbreaks and block selected areas only. Or you can risk it and try to block only people who contacted positive patients but that is very hard to pull off and in trying to do so months ago in Italy we let the virus spread over our grasp.
Or you can pretend this is a flu and do nothing about it like some genius is suggesting. That may be feasible in unpopulated and isolated countries with little sign of infection but it's definitely not recommended for most developed countries active in the WTO.
NYC relies on public transportation and that's part of the problem. The fact is sunlight, heat and humidity all kill the virus. Most of the people that have died from this are old people in nursing homes. I am not saying it's OK that old people are dying. But you have idiots like Cuomo (D) NY that sent Covid people back to nursing homes to infect everyone else. Cuomo has blood on his hands.
Here in Florida, our Republican governor protected nursing homes. He sent the national guard in to help nursing homes and he kept sick people out of nursing homes. As a result, we have one of the lowest death rates even with our large elderly population. We have been open for a couple weeks now and our number of cases and deaths have continued to go down. It's like I have been saying all along, get out and get out of your houses. The worst thing you can do is lock yourself in your house 24/7.
Georgia, another Republican state, opened up a couple weeks ago and the democrats were hoping there would be a dramatic increase in cases, but you know what? There wasn't. Now the Democrats are mad, because people even in blue states are realizing that being locked down isn't the answer. Now they are keeping beaches closed in New York. Cuomo thinks people are going to stay away from the beach because he said so? Fuck him and fuck all the control freak Democrats. This isn't about Covid anymore, this is about the Democrats wanting to keep the economy closed past the election because they think it will help them win elections. But as they found out in CA and WI, people are waking up and the Democrats hold on power is coming to an end. For those than don't know, because I am sure it wasn't reported in the MSM, Republicans won back a House seat in CA and in Wisconsin in recent special elections. This is only a taste of what's to come in November.